Epos Now has become a popular point of sale (POS) system for many small and medium-sized businesses in retail, hospitality, and food service. However, Epos Now does have some drawbacks that could lead business owners to look for alternative POS systems better suited to their needs.
Some of the key cons of Epos Now include long and rigid contract terms, hidden fees, lack of integration with certain accounting software, limited omnichannel capabilities, and poor customer service reviews. It may be worth exploring other POS systems on the market for businesses wanting more flexibility, transparency in pricing, robust integrations, and omnichannel functionality.
Essential Info on Epos Now
Businesses that are a good fit for Epos Now
Epos Now is a cloud-based point of sale system that caters to a wide range of businesses:
Retail: Epos Now can help retailers manage their inventory, track sales, and accept payments from customers. It also offers features such as customer loyalty programs and gift cards.
Hospitality: Epos Now is a good fit for restaurants, bars, and cafes. It can help them manage their tables, take orders, and process payments. It also offers features such as kitchen display systems and online ordering.
Other industries: Epos Now can also be used by businesses in other industries, such as salons, spas, and service businesses.
Businesses that cannot work with Epos Now
Lile any POS, Epos Now is not a great fit for just any type of business:
Businesses that need a very specialized POS system: Epos Now is a general-purpose POS system, so it may not be suitable for businesses that need a very specialized system, such as a thrift store.
Businesses with very high transaction volumes: Epos Now is not designed to handle very high transaction volumes, so it may not be suitable for businesses such as large retail stores, or busy restaurants. Basically, it's a POS that can't easily scale with your business.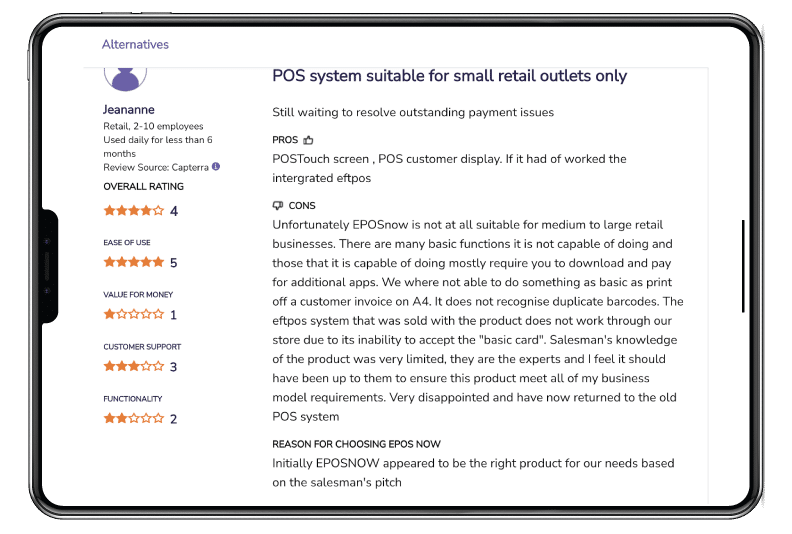 Source: Software Advice
Potential Reasons To Look For Alternatives To Epos Now
Despite being a fairly popular point-of-sale software, Epos Now has received enough unpleasant reviews in recent years that business owners should pay attention to:
Pricing: Epos Now's pricing structure can be complex and difficult to understand. It also has a number of hidden fees, such as a fee for customer support.
Contracts: Epos Now requires businesses to sign a long-term contract, typically for three years. This will likely make switching to a different POS system difficult.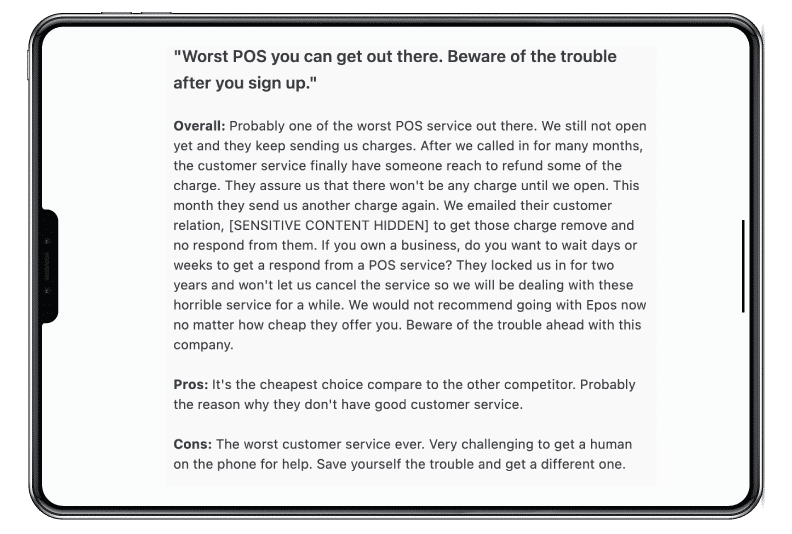 Source: Capterra
Customer support: Epos Now has been criticized for its poor customer support. Customers have reported that it can be difficult to get in touch with customer support and that when they do get in touch, the support they receive is often not very helpful.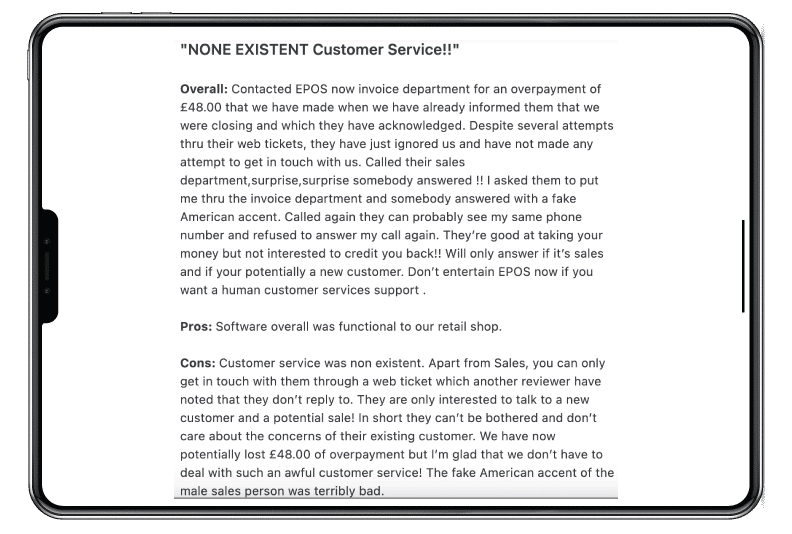 Source: Capterra
KORONA POS: Best Alternative to Epos Now For Retail, QSRs & Admissions 
Although Epos now caters to retail businesses, KORONA POS is a convincing alternative, firstly because of the wide range of retail businesses it serves and secondly in terms of functionality, flexibility, and impeccable customer support. Beyond retail and QSRs, KORONA POS is ideal for theme parks, museums, and attractions needing ticketing solutions. Find out more below about why KORONA POS is the ideal alternative to Epos Now for your business:
Inventory management
One of the cornerstones of any retail or quick-service restaurant operation is effective inventory management. KORONA POS offers a highly sophisticated inventory management system that provides real-time tracking and alerts for low-stock items, historical data analysis, and even predictive ordering. Unlike many other solutions, KORONA POS's inventory management is designed to scale with your business, ensuring that you'll never outgrow its capabilities. 
Source: KORONA POS
Processing agnostic solution
One advantage of KORONA POS over Epos Now is that KORONA POS works with any payment processor, while Epos Now (like most POS systems) does not. Being locked into one payment processor can be a bottleneck for businesses.
KORONA POS is processing agnostic, which can integrate with any major third-party payment processor. This gives the merchant the flexibility to choose the processor that offers the best rates and features without being tied to a particular vendor. This is notably advantageous for businesses aiming to maximize operational efficiency and financial flexibility. 
See related: KORONA POS Can Help Retailers Optimize Retail Payment Processing
Self-service kiosk
Self-service kiosks are a rising trend in retail stores and quick-service restaurants, and KORONA POS is ahead of the curve. KORONA POS offers a self-service kiosk solution that allows customers to place orders and pay without having to interact with a cashier, reducing staff workload and enhancing customer experience. This reduces wait times and improves customer satisfaction.
Cross-platform compatibility
Whether you're a Windows or an iOS user, KORONA POS has you covered. The software is designed to run seamlessly on both operating systems, allowing you the freedom to choose the hardware that best suits your business needs.
Such cross-platform functionality ensures that transitioning to KORONA POS is as smooth as possible, with minimal disruption to your operations.
Contactless payments
KORONA POS enables NFC contactless transactions through mobile wallets like Apple Pay and Google Pay. Customers can check out safely and quickly using their mobile devices.
Loyalty programs and promotions
Retaining customers is just as crucial as attracting new ones. KORONA POS comes packed with built-in loyalty programs and promotions functionality. Tailor your discounts, rewards, and special offers to incentivize repeat business and cultivate long-term relationships with your customers.
Reporting and analytics
Informed decision-making is the backbone of any successful business. KORONA POS provides robust reporting and analytics tools that offer actionable insights into sales, inventory, and customer behavior. These features enable you to make data-driven decisions that could significantly enhance your operations and profitability.
Customer support
Excellent customer support can make or break your experience with a POS system. KORONA POS shines in this area over Epos Now with 24/7 customer support, ensuring that any issue you encounter is resolved promptly, allowing you to focus on running your business rather than troubleshooting software. KORONA POS offers phone, email, and chat support.
Multi-Store and eCommerce integration
If you're operating multiple outlets or planning to venture into online sales, KORONA POS makes its multi-store feature and eCommerce integration effortless. Unify your in-store and online sales channels with KORONA POS's integration with any major eCommerce platforms, like WooCommerce, Shopify, and Magento
Lightspeed POS: Best Alternative for Restaurants
Lightspeed may be a good alternative to Epos Now if you're looking for POS software for your restaurant. Lightspeed Restaurant is a cloud-based POS system that is specifically designed for restaurants of all sizes. It offers a wide range of features to help restaurant owners manage their businesses more efficiently and profitably:
Customizable POS interface: 
Lightspeed Restaurant is designed to be an all-in-one system. It integrates seamlessly with delivery platforms and offers native tableside ordering capabilities, pay-at-the-table options, QR code ordering, customer behavior tracking, menu optimization, etc. This helps you manage your restaurant operations holistically, from front-of-house to back-of-house, without the need for multiple software systems.
Kitchen Display System (KDS)
The KDS is another area where Lightspeed Restaurant excels. This system routes orders directly from the waitstaff's tablets to kitchen screens, ensuring accurate and efficient order management. Lightspeed's KDS is customizable, enabling kitchen staff to sort orders by type, preparation time, or other variables. As a result, it helps reduce errors and increases kitchen efficiency.
Epos Now offers a KDS, but the system may not provide the same level of customization or integrate as seamlessly with other modules as Lightspeed's offering.
Customer-facing display
Lightspeed Restaurant offers a customer-facing display. This display streamlines the checkout process, allowing customers to see itemized orders in real-time. They can even add a tip or sign directly on the screen. This transparent process enhances customer trust and experience, contributing to overall satisfaction and loyalty.
Reporting and analytics
Deep reporting and analytics give you valuable insights into your top-selling dishes, busy hours, labor costs, ingredient usage, and more. This helps optimize everything from menu planning to staff scheduling. It's an invaluable tool for reducing costs and boosting your bottom line.
Robust inventory management
Lightspeed also shines with its robust inventory management and purchase ordering capabilities. Always know your precise inventory levels across ingredients, retail items, and alcohol to prevent shortages. Easily set par levels and get notified when you're running low. Automated, integrated purchase orders save managers time.
You might also want to read: 5 Top Alternatives to Lightspeed POS for Retail Businesses
Clover POS: Best Alternative for Personal, Professional, Home, And Field Services
Clover POS is a versatile point of sale software that can work for many types of businesses, including retail, restaurants, professional services, and more. However, according to several review sites, Clover shines as an excellent POS system for personal and professional service businesses. So if you run a business offering services like house cleaning, plumbing, or fitness training, to name a few, Clover POS would be a great alternative to Epos Now.
Unlike Epos Now, which only covers spa services for the personal services industry, Clover is designed to handle a wide range of appointment-based and on-site service businesses. Its specialized features for client management, scheduling, dispatching, and mobile payments make Clover a top choice POS for professional services over more general systems like Epos now.
Belo are some of the features that make Clover one of the best alternatives to Epos Now: 
Virtual terminal
The virtual terminal feature of Clover POS allows service businesses to take payments on the go directly from a smartphone, tablet, or computer. This means you can collect credit card payments at a client's home or job site, send invoices for customers to pay online, and manage transactions remotely through the web dashboard.
Key benefits include taking payments anywhere, storing customer card information for faster checkout, emailing receipts, and protecting against fraud. The virtual terminal makes Clover highly convenient for mobile and appointment-based services.
Seamless payment processing 
The Clover system accepts credit cards, debit cards, gift cards, and contactless payments. You can use it as a complete point of sale or as a stand-alone payment system. Clover POS also offers its customers a wide range of payment methods: 
EMV chip cards
Charge cards
NFC contactless payments
Checks
Cash
Important integrations 
Clover POS offers valuable integrations with popular accounting and payroll platforms, making it easy for businesses to manage their bookkeeping and payroll.
For accounting, for instance, Clover integrates with QuickBooks to enable seamless syncing of sales, inventory, and other transactions between the POS system and accounting software. This saves the hassle of manually exporting and importing data. For payroll needs, to name another, Clover partners with providers like Paychex, Gusto, and ADP so employers can efficiently run payroll for employees directly from Clover.
Clover gift cards
Clover POS gift cards is a feature that allows merchants to sell and redeem gift cards directly from their Clover POS system. It is a simple and convenient way for businesses to offer gift cards to their customers, and it can help to increase sales and customer loyalty.
Gift cards can be purchased in physical or digital form. Clover POS also gives you an overview of your gift card sales and redemptions with special reports.
Toast: Best Alternative for Quick Service Operators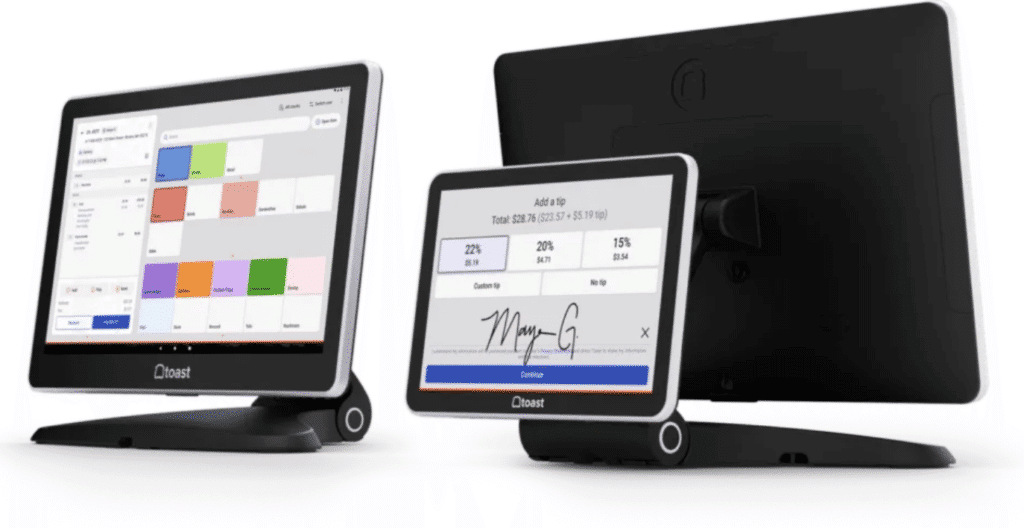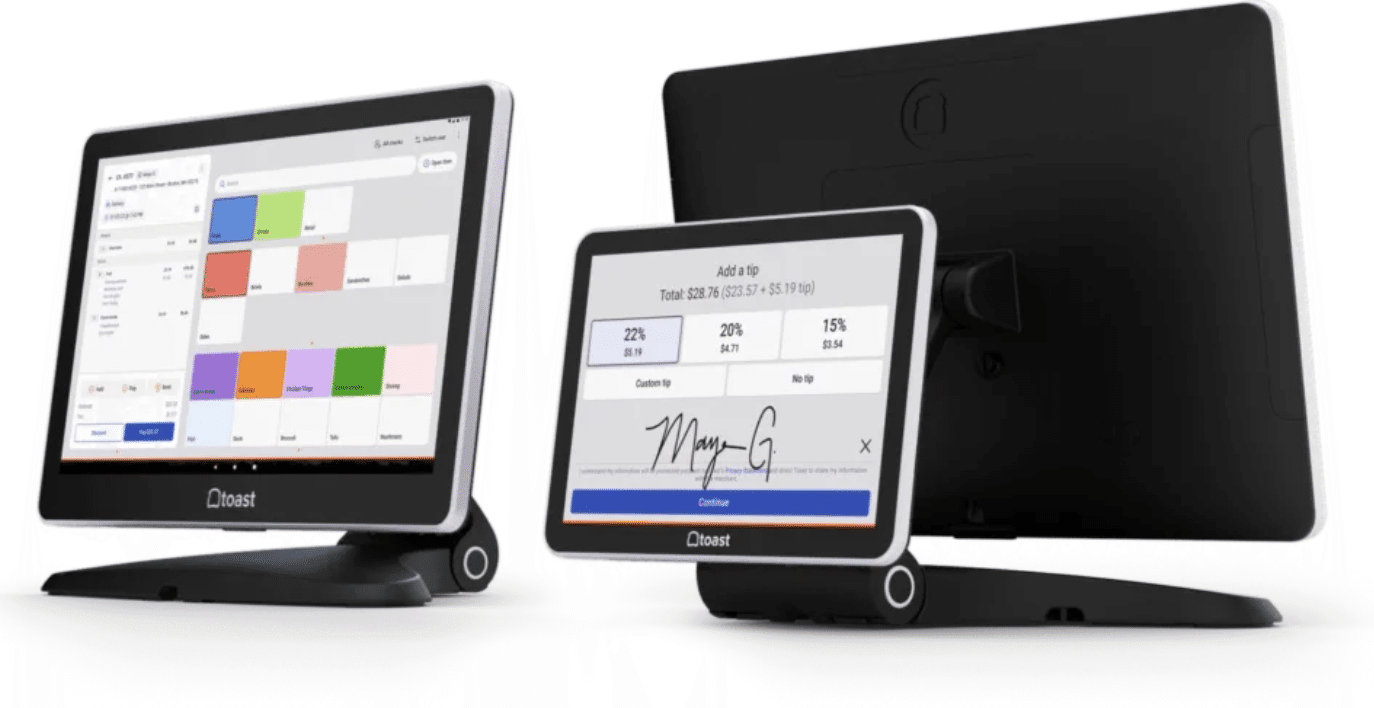 Like Epos Now, Toast offers point of sale software, but it's specifically tailored for restaurants. If you run a simple restaurant and are considering an alternative to Epos Now, Toast is a top choice. Here's why Toast might be a better fit:
Toast works for all restaurant types
Whether you operate a quick-service spot like a cafe, bakery, pizza place, or food truck, or you have a full-service bars, casual, or fine dining establishment, Toast has got you covered.
Self-ordering kiosks
This feature's particularity allows customers to place their orders autonomously and customize their meals as they wish. Orders are sent directly from the self-service kiosks to the line. The ultimate advantage of this feature is that it allows staff to devote themselves to other important tasks while customers place their orders themselves. 
Third-party delivery integrations
Toast integrates with various third-party delivery services, allowing restaurants to offer online ordering and delivery to their customers. Toast recently announced new direct integrations with DoorDash, Grubhub, Uber Eats, and Caviar.
These integrations allow orders placed on these platforms to flow directly into the Toast POS system, eliminating the need for restaurants to enter orders into multiple systems manually. This can save restaurants time and reduce the risk of errors.
Toast Mobile Order & Pay
The Toast Mobile Order & Pay feature allows customers to easily scan a QR code to view the menu, order, and pay from their mobile device. What's more, with Apple Pay, customers can pay in less than 10 seconds. The feature allows customers to easily submit orders from their devices, reducing costly comps and cancellations.
Catering & events
It allows you to collect customer information online and use it to create personalized banquet orders, quotes, and estimates. You can then turn an event's banquet event order (BEO) into an invoice that your customers can easily pay online or at the point of sale.
In simpler terms, the Toast catering & events feature is a tool that helps you:
Get customer information online
Create customized banquet orders, quotes, and estimates
Turn banquet event orders into invoices
Accept payments online or at the point of sale
In addition to the unique features mentioned above, Toast also offers the best-known features essential to managing your business, such as the kitchen display system, payment processing, toast delivery services, payroll & team management, scheduling, toast tips manager, email marketing, gift cards, loyalty, and much more.
Alternatives To Epos Now: Wrapping Up
While Epos Now offers a feature-rich POS system, its limitations have led many businesses to seek out alternatives better aligned with their needs. Options like KORONA POS, Lightspeed Restaurant, Clover POS, and Toast provide compelling alternatives to Epos Now across retail, food service, and service-based businesses.
For any business owner dissatisfied with Epos Now, it is well worth evaluating these POS alternatives to find the right fit. If you're a business owner wanting to learn more about KORONA POS, click below to book a demo with one of our product specialists today!