Cobram Estate has been named on the Australian Financial Review's Sustainability Leaders 2023 list for the second consecutive year in the category of Agriculture & Environment.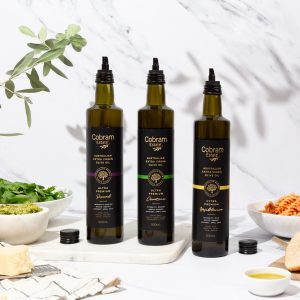 The company's joint-CEO and chief oil maker Leandro Ravetti is thrilled with the accolade and says the Cobram Estate team have been working for more than 25 years to ensure the business is as gentle on the planet as possible.
"At Cobram Estate we firmly believe that the food we eat and how we produce it will determine the health of people and the planet," he says.
"Increasingly, we are becoming aware that the dominant diets consumed globally are not nutritionally optimal, lead to large increases in diet-related diseases such as obesity, cardiovascular disease, and diabetes, and are major contributors to climate change and environmental damage.
"Olives as a crop, when managed like ours, and extra virgin olive oil as a product, are perfectly positioned to play a critical role within the sustainable production of food and the adoption of sustainable and healthy diets."
Towards zero waste
Cobram Estate's 'towards zero-waste' approach is promoted as one of the most significant ways sustainability is embraced at the company.
"When you look at our operations, 0.5% of our operations' output ends up in landfill," says Mr Ravetti.
"Everything is used, recycled or upcycled. Branches pruned from the trees are mulched and returned to the soil as organic amendment. Leaves are used to produce our Stone & Grove olive leaf teas or Wellgrove olive leaf extracts. Even the olive pits are separated from the rest of the pulp left after pressing the extra virgin olive oil and used as a renewable energy source with the remaining flesh composted as fertilizer or used for stock feed."
Cobram Estate has been able to take this one step further. It received a grant from Sustainability Victoria last year to support the development of a new waste handling system at its olive mill in Boundary Bend, which uses a combination of recycling technologies to de-water the olive pomace and extract valuable components from the waste. This project is expected to deliver an estimated 65% reduction in the volume of the waste material it processes, together with lower greenhouse gas emissions and the creation of new commercial products
Carbon footprint
Interested in better understanding the carbon footprint associated with the production and delivery of its olive oil products to market, Cobram Estate says it has completed two independent evaluations of its baseline carbon position across its entire Australian operations.
Both assessments are said to have revealed that carbon sinks identified on Cobram Estate groves both in the below and above ground biomass, entirely offset the emissions associated with growing and marketing the olive oil leading to a net removal of approximately 4kg of CO2 per litre of olive oil produced and sold.
"In other words, we have been able to sink more carbon than we emit with the studies identifying several opportunities to further improve on this position," says Mr Ravetti.
Biodiversity
Cobram Estate says it's also strongly focused on land system management and minimising biodiversity loss at its properties.
More than 1300 hectares of native vegetation has been fenced off on Cobram Estate land to provide habitat for local fauna and encourage wildlife onto the groves.
500 hectares have been set aside to plant native woodland and mallee species, with the first phase of reforestation occurring in September 2022 with direct seeding of 150 hectares at Cobram Estate's Boundary Bend grove. This reforestation project is estimated to sequester 50,000 tonnes of carbon dioxide emissions, and because of improved native vegetation, native wildlife including emus, cockatoos and kangaroos have moved into the groves.
Cobram Estate has also partnered with the Victorian Malleefowl Recovery Group to provide "much-needed" funds and research to protect the threatened mound-building bird that is endangered in Victoria.
"As Australia's largest olive producer, we have invested hundreds of millions of dollars in regional Victoria over the past 25 years and generate over 500 full and part time positions annually," says Mr Ravetti.
"We're committed to continue investing and advocating for sustainable olive farming as a true example of large-scale agriculture that can deliver positive impact in the pillars of health and sustainability.
"With many sectors of agriculture under the microscope for their impacts on the environment and society, we're proud to be leading the way and this recognition from the AFR as a sustainability innovator is a testament to all our efforts."