Halloween is just around the corner, and it's time to get your creative cauldron bubbling with spooky prints! Create Halloween gifts for a spooky season, decorations for your home or jewellery to wear! If you're looking to add a touch of magic to your Halloween festivities, our 3D print and cast service has you covered. We've conjured up some ghoulishly delightful designs that we are sure will offer you some inspiration. Let's dive into the wickedly wonderful world of 3D-printed Halloween Inspired designs!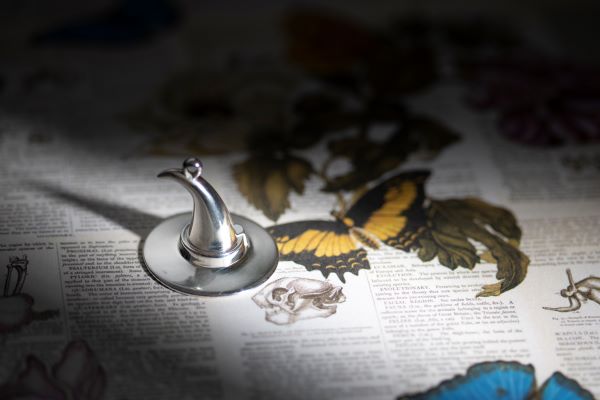 1. The Enchanted Witches Hat
No Halloween is complete without a classic witches hat. Our 3D-print and cast version is not your ordinary pointy cap—it's a masterpiece of intricate design. Crafted in Silver, it adds an elegant and enchanting touch to your witchy ensemble, wear it as a pendant or keep it as a bewitching token perfect for any Halloween lover.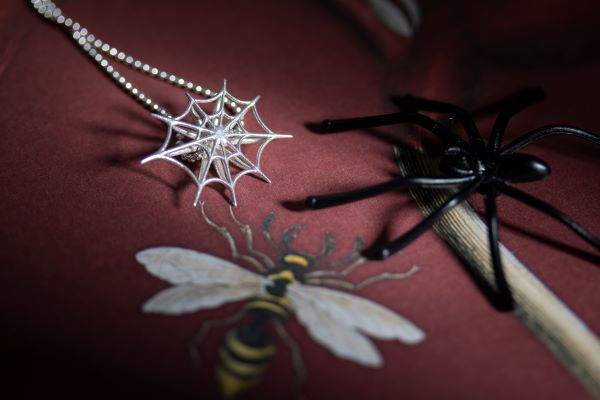 2. The Haunting Spider Web
Make a statement with the intricate beauty of a 3D-printed spider web. Made in silver, it catches the light in a hauntingly beautiful way. Wear it as a brooch, turn it into an earring or add a chain and voila you have a perfect statement necklace. It adds a touch of eerie elegance to your look. Place a few plastic spiders strategically, and you could also have a Halloween decoration that's both creepy and captivating.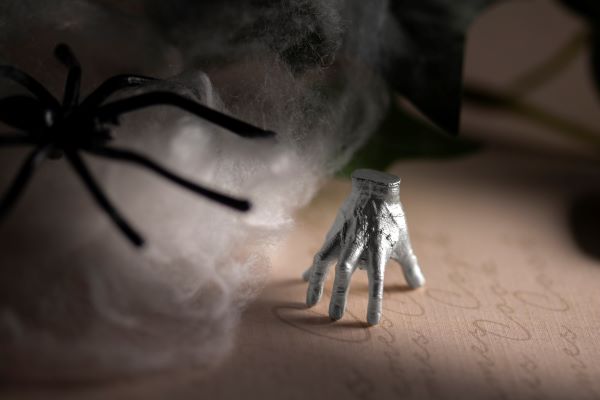 3. Thing.T.Thing
For all those Addams Family fans, we have crafted the perfect Thing for you. No quite literally its THING, 3d printed the spooky yet stylish hand perfect for the season. This intricately designed hand reaches out offering an eerie touch to your haunted festivities. Whether you keep him with you sitting on your table as a conversation starter, lurking in the corner or wearing Thing as a stunning jewellery statement piece. Its the perfect embodiment of Halloweens enigmatic charm. Design credit: Emre1601 (Thingiverse)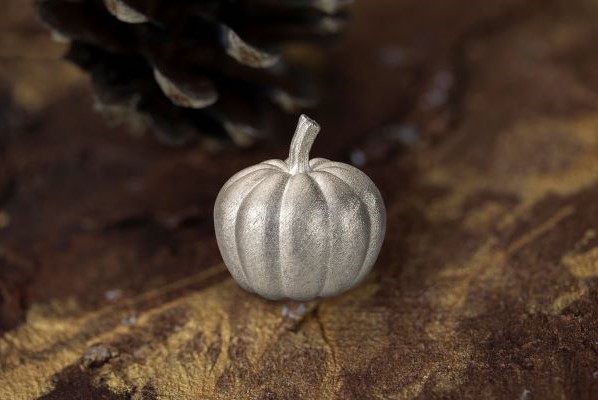 4. The Shimmering Silver Pumpkin
Pumpkins are an iconic symbol of Halloween, and our 3D-printed silver pumpkin puts a modern twist on a classic favorite. This pumpkin won't ever rot, and its metallic sheen adds a touch of sophistication to your Halloween decor. Place it on your mantelpiece, use it as a table decoration or paperweight. The possibilities are endless.
Each of our designs (not including Thing) are now available to print from our online design library. Download them for free and add your own touches for a little extra personalisation. You can also customise your polishing option, Hallmarking and choice of alloy. But don't let our designs limit your creativity! With 3D printing, you have the power to design and bring your own spooky visions to life. Whether you're dreaming of eerie tombstones, haunted house replicas, or ghostly candle holders, our 3D print and cast service can turn your Halloween ideas into reality. You can either create your own CAD design or use one of our free extra resource sites to find a spooky design that's perfect for you.
To get started, simply visit our design library. We're here to help you transform your Halloween spooky season into a haunted haven this Halloween.
Get ready to spook, surprise, and enchant your guests with these unique and eye-catching designs. Happy Halloween, and may your holiday be filled with spine-tingling delights!