I always say you should treat your neck as an extension of your face. That means you should be caring for the skin on your neck in the same way that you care for the skin on your face (yes, that means cleansing, exfoliating, moisturizing… the whole nine yards). After all, the neck is one of the first areas to show visible signs of aging, and that includes the horizontal lines and wrinkles that are commonly referred to as "tech neck."
In this post, I'm sharing all things tech neck along with additional input from Dr. Kavita Mariwalla of Mariwalla Dermatology. I wanted to hear her thoughts on this topic as a medical skincare expert. Keep scrolling to learn all about the causes of tech neck and how to address it, according to us pros!
What Is Tech Neck, and What Causes It?
Tech neck is a colloquial term that refers to the premature development of horizontal lines across the neck caused by the position of our faces as we look down at technology. "In the past, we called them necklace lines," Dr. Mariwalla says. "In general, the idea is that if you are looking down at your screen for many hours a day, there will be signs of aging and changes associated with draping that occur over time in the neck area."
Over my thirty-year career as an esthetician, I can confidently say that the development of horizontal lines on the neck has always been prevalent. In fact, looking down at technology isn't the only thing that can cause tech neck—your sleeping position has something to do with it, too. Back sleepers and people who sleep with their heads elevated on multiple pillows cause a 45-degree bend in their neck as they sleep, leading to the formation of lines and wrinkles.
With that being said, neck lines have certainly been exacerbated by the use of technology. It seems that as screen times increases, so does the development of premature folds and wrinkles. Dr. Mariwalla agrees. "Because of the amount of time we are spending at home and the increase in a digital-work-from-home-force more people are aware of it," she says. "Interestingly, because we are working from home, I think people are spending more time looking at electronics and practicing poor posture."
How Can I Prevent Tech Neck?
Tech neck can develop as early as your 20s or 30s. It's difficult to get rid of once it appears, so prevention is key. Here are a few easy, expert-recommended ways to keep those pesky lines and wrinkles at bay.
Be Mindful of Your Posture
The best way to prevent tech neck is to be mindful of your posture and positioning throughout the day. If you spend hours looking down at a computer (like so many of us do), you may want to switch up your seating. Instead of looking down at your screen, keep your screen at eye level. This will keep your neck straight throughout the day, preventing premature lines and wrinkles from forming in the first place. "Create a space for working in your home that requires you to sit properly in a chair with good posture," Dr. Mariwalla says. "Then, once you are done with your work be done with it, and don't switch to sitting on the couch staring down at your phone."
Sleep on One Pillow
Are you one of those aforementioned people who sleep on multiple pillows every night? Like I said before, this can be detrimental to the appearance of the skin on your neck because it can cause your neck to remain bent at an angle. Whenever your neck remains bent for long periods of time (such as when you sleep), it can encourage lines and wrinkles to form. Luckily, the fix is easy. Simply sleep on one pillow (the thinner the pillow, the better), so your neck remains in a more neutral position. It may not sound like much, but given that we spend nearly a third of our lives asleep, the effects really add up.
Use Sunscreen
UV rays are the number one cause of premature aging, which is why consistent sunscreen application is paramount. Make no mistake. This goes for the skin on your neck, too. I can't tell you how many times I've seen someone apply sunscreen to their face, take whatever was left on their fingers, and bring it down to their neck. I can assure you that this application technique simply isn't providing enough sun protection. You're going to want to squeeze an additional nickel to quarter size out for the neck. Learn how to properly apply sunscreen properly to the neck, here.
Moisturize Every Day
Dry, damaged skin is more likely to develop early signs of visible aging, which is why it's important to give your skin the moisture it needs. Using a neck cream daily, like this Intensive Firming Neck Creme, which is formulated to lift, de-puff, and nourish the delicate skin on the neck, will keep premature signs of aging at bay. (Then, be sure to read up on the difference between dry and dehydrated skin).
Use the Right Active Ingredients
Using skincare products with the right active ingredients can keep premature signs of aging—including tech neck–at bay. Below, find three effective ingredients that you should consider adding to your current skincare routine in order to prevent tech neck.
Retinol
Retinol has been proven to stimulate cell regeneration, boost the production of collagen, and promote skin elasticity, among other things. It's a true multi-tasking skincare ingredient. One of the major benefits of using retinol (or a prescription retinoid) is that it can make a major impact on the appearance of wrinkles, and that includes wrinkles that are on the neck (take THAT, tech neck!).
Beware that prescription retinoids may prove irritating, especially to sensitive skin types, which is why it's important to patch test, first. After all, the skin on your neck is thin and delicate, and the last thing you want to do is cause widespread irritation. Dr. Mariwalla suggests using a sandwiching technique, in which you apply moisturizer, then retinol, then another layer of moisturizer. This will help the sensitive skin on the neck tolerate the potentially irritating ingredient. (On that note, read my beginner's guide to using retinol.) 
Antioxidants
Antioxidants are key in the prevention of premature aging. This is because they prevent free radicals (unstable electrons that attack healthy cells and change their composition) from oxidizing molecules. Much like the skin on your face, the skin on your neck can come into contact with damaging free radicals daily, whether that's from UVA and UVB rays, pollution, or other environmental stressors. When exposed to these, the DNA, lipids, and proteins in our cells are susceptible to damage. What happens next? The production of collagen and elastin slows down, which can lead to loss of firmness and wrinkling. Protect your neck from free radicals by using an antioxidant-rich serum.
Peptides
Peptides are long or short chains of amino acids, which are the building blocks of protein. These send signals to your cells to produce collagen. Dr. Mariwalla suggests incorporating peptides into your skincare routine since they can improve the quality of the skin on the neck. I recommend using a peptide serum in the evening to help your skin regenerate while you sleep.
What If I Already Have Lines on My Neck?
Proper skin care will certainly help lessen the appearance of neck lines and wrinkles, so I suggest practicing all of the above if you already have a case of tech neck. At the very least, this will ensure that lines and wrinkles won't deepen, becoming even more stubborn and noticeable. With that being said, there are a few other options you turn to, including smoothing patches and professional treatments. Let's talk about smoothing patches first.
Wrinkle and Line Smoothing Patches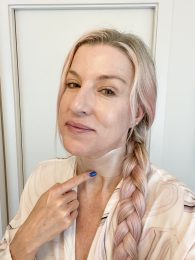 Smoothing patches, such as those from Frownies and SiO Beauty, hold the skin taut to decrease the appearance of deep lines. I tried the Sio Beauty NeckLift Treatment, which is a silicone patch that hugs the contours of the neck. Since it needs to compress the skin to work, it feels tight (some people might find these too uncomfortable to wear overnight or for long periods of time). Facial patches like these discourage muscle movement and skin creasing, so they're certainly worth checking out! (Read more about facial patches for wrinkle formation prevention here).
Professional Treatments
When it comes to professional options, which will offer fast and dramatic results, Dr. Mariwalla suggests micro-needling, microdroplets of Botox, and Ultherapy and Sofwave. The latter two use ultrasound technology to lift the neck, chin, and brow and improve lines and wrinkles. She also makes note of various laser treatments, which can resurface the skin's texture. I have undergone a few treatments on the neck myself, and can confidently say there are several effective surgical (and non-surgical) ways to tighten the neck. Consult a dermatologist to find out which one is right for you.
I hope this helps you understand the causes of tech neck, as well as the best ways to prevent it and address it once it's already appeared.
Next up, read all about microcurrent devices and how they can lift and tone your skin at home.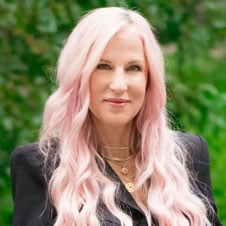 Celebrity Esthetician & Skincare Expert
As an esthetician trained in cosmetic chemistry, Renée Rouleau has spent 30 years researching skin, educating her audience, and building an award-winning line of products. Her hands-on experience as an esthetician and trusted skin care expert has created a real-world solution — products that are formulated for nine different types of skin so your face will get exactly what it needs to look and feel its best. Trusted by celebrities, editors, bloggers, and skincare obsessives around the globe, her vast real-world knowledge and constant research are why Marie Claire calls her "the most passionate skin practitioner we know."