Melbourne-born social enterprise, Thankyou, is launching its first bricks and mortar store – a twelve-week pop-up combining creative architecture with interactive events for an unconventional retail experience. The architecturally striking space in Melbourne CBD has been designed to "be found, not seen" – an elusive space that will feature Thankyou's latest product ranges, including its new personal care and home care lines, and play host to a series of events in its gallery style seating area.
Since its inception in 2008, Thankyou has operated on a strategic operational model that allowed them to operate all-for, channelling the organisational profits into projects that alleviate poverty in the world's poorest communities – amounting to over $17.9 million given. This hyper-efficient model involved focusing on grocery sales channels with large retailers such as Coles and Woolworths. The brand is set to re-launch its e-commerce offer to support the core part of its business in July 2023.
To mark the next phase of its evolution, Thankyou is opening a twelve-week pop-up store in Melbourne CBD to drive consumer awareness towards its new, relaunched product lines, amplifying its message of consumerism for good and its core goal of "seeing a world where not one person lives in extreme poverty." The pop-up retail store will occupy a 256sqm space within Emporium Melbourne from 30 June until 24 September.
The retail space will feature Thankyou's new home cleaning and personal care products, which are set to become Thankyou's hero products. "Both of the lines have been crafted with sustainability front of mind: natural formulas packaged in refillable bottles that don't compromise on the brand's tastefully minimalist aesthetic. The home care range includes a world-first 100% natural hospital grade cleaner, while the body care range features an innovative "forever deodorant" – 100% natural 48-hour antiperspirant packaged in a stylish refillable bottle," says the brand.
As a celebration of excellent Australian design, Thankyou worked with Outland Denim in the creation of its limited edition apparel range, which currently comprises a series of Unisex tees labelled The Inside Collection. These "100% organic cotton" tees use a disruptive design that sees the majority of brand markings on the inside. The minimalist designs come in Black, White, Charcoal and Sand colourways and will initially be available to purchase exclusively from The Inside Store.
"A reflection of Thankyou's non-conformist approach, The Inside Store will follow very few (if any) of the conventions expected from a generic retail space – designed to be 80% experience, 20% retail."
Limited signage will keep the store discrete from passersby, and a light-to-dark style interior fit-out will include curved, whitewashed walls and a refined selection of products, including some in-store exclusives (such as its new line of apparel designed in collaboration with Outland Denim). Upon entry, the store will guide visitors to turn left as opposed to right (the conventional store direction) and will lead them towards a gallery-style room. The store will host a series of events, set to range from educational keynotes from the Thankyou founders to live podcast recordings.
"For over a decade, Thankyou has been chasing a single idea — to be a sustainable social enterprise at a global scale, making an impact around the world. But to get there, we've had to reimagine everything; our products and how we make them, the way we structure our team and operations, and most of all, the way we think about the future of Thankyou and we imagined it," says Daniel Flynn, who co-founded Thankyou with his business partner (now wife) Justine in 2008.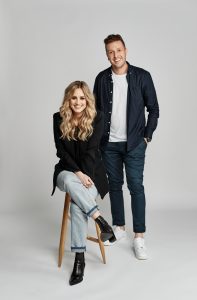 "This year, we're launching Thankyou Reimagined, and creating a physical space from which to connect with our community felt like an essential stage in that journey. A standard shop wouldn't have been the Thankyou way – this is an experimental space for education and connection, and we're really looking forward to bringing it to life."
In bringing The Inside Store to life, Thankyou partnered with premium retail precinct Emporium Melbourne on the space. "The two brands share a similar vision – to pioneer first to market, experiential experiences that seamlessly merge purpose and commerce, empowering customers to make a positive impact whilst still enjoying extraordinary shopping experiences," the brand said.
"For over a decade, Thankyou has built its reputation on creating high-quality products and donating all profits towards global impact partners working to tackle complex issues. Determined to consistently operate at the forefront of altruistic consumerism, Thankyou has gone through a number of evolutions as the team examines how best to use its position and network for good."
The Inside Store is the next phase in the Thankyou story, with further evolution already in the works.