The Skin to Love Clinic is proud to introduce the latest addition to our lineup – the JLO BEAUTY® Booster-inspired HydraFacial.
When it comes to collaborations, HydraFacial doesn't mess around. Their boosters include collaborations with Murad, ZO skin health, and NassifMD to name drop a few. This time they've teamed up with the ever-glowing Jennifer Lopez to boost your skin like never before with this superstar treatment, formulated to give you that iconic JLO glow.
This latest nutrient-rich booster combines the best of Eastern and Western skincare secrets to deliver unrivalled results. Niacinamide smooths and moisturises while providing protective properties. Olive Leaf Extract works its magic to nourish and hydrate dry and ageing skin. HydraFacial's exclusive, patented Hydracomplex which is packed with nourishing ingredients and extracts that enhance suppleness, hydration, and plumpness. And let's not forget about the fermented adaptogen blend. This is extracted from beetroot, snow mushroom, and tiger grass to rejuvenate, support your skin, and restore it for a glow that makes you want to Get Loud about your newly found beauty regime.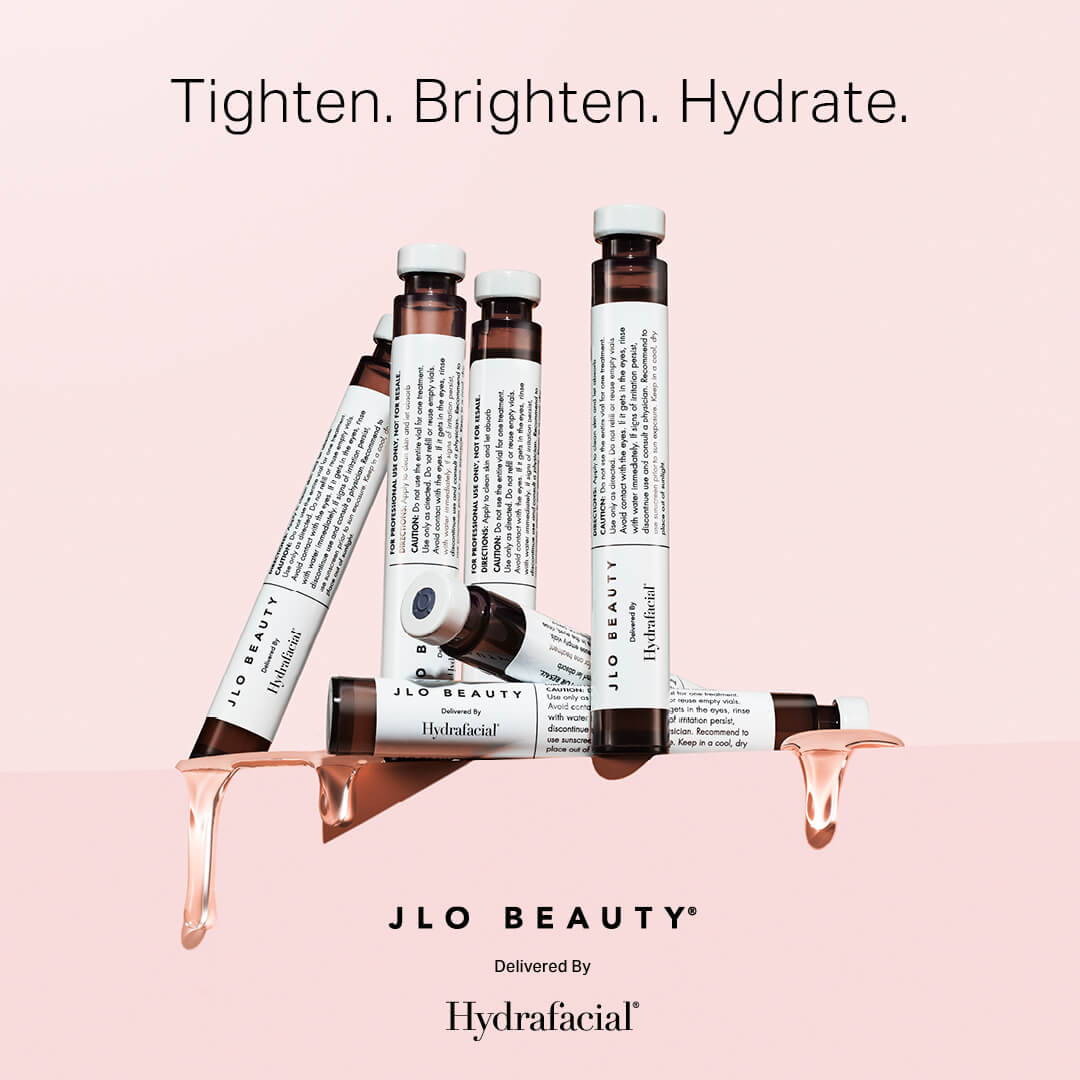 At Skin to Love, a Booster is chosen for your specific skincare needs and goals by our HydraFacial expert during every Platinum HydraFacial experience. The JLO Booster takes the HydraFacial experience to new heights.
Say hello to show-stopping, dewy-fresh radiance and the smooth, soft, and supple skin of dreams.
Glow with Confidence, JLO-Style
For years, nay DECADES, we've watched that radiant JLo glow turn heads on the red carpet, and now it's time to get a taste of that confidence-boosting magic for ourselves. This booster was crafted to make you feel fabulous in your skin, and you'll see – and feel – the results instantly. Who wouldn't want Jennifer Lopez's skincare secret at your fingertips?
"I've always loved getting Hydrafacials, and adding my new JLO BEAUTY® Booster to my Hydrafacial treatment is my new secret weapon to take my JLO Glow to the next level." – Jennifer Lopez, Founder, JLO BEAUTY®
The buzz around the JLo HydraFacial launch is real, and we couldn't be more thrilled to offer this coveted treatment at our skin clinic in St. Albans, Hertfordshire. The HydraFacial device combined with the JLo Booster is a match made in skincare heaven, leaving you with that signature JLo glow we all admire.
Our Honest Take
"As JLo says 'Beauty has no expiration date' and we could not agree more. At our skincare clinic, we strongly believe in having beautiful skin for the age you're at; our clients don't want to look in their 20s when they're in their 40s and 50s, they just want to look good!

When our clients come to us for their Platinum HydraFacial, we carefully select a booster for their unique requirements. If they're having a course of treatments, and depending on their needs, the chosen booster may vary. We feel that the JLo booster is ideal for those of us who have skin which needs nourishing, plumping, rejuvenating, and brightening, as well as for those whose skin needs a skincare hug… I'm talking about those with parched, dry skin, those who have really dull skin, or those who have experienced some sun damage."

Kerri Lewis, Co-Founder of The Skin to Love Clinic.
With no downtime and immediate, noticeable effects, it's no wonder our experts and clients love it.
Wondering how HydraFacial works its magic? The treatment combines HydraFacial's renowned vortex technology which gives your skin a DEEP clean, exfoliates, and floods your pores with powerful serums. It's like a relaxing facial with a hi-tech twist. Let us walk you through some of the steps:
Lymphatic Drainage: We'll start with lymphatic drainage to sculpt your features and prepare your skin for the ultimate glow-up.
Exfoliation and Extraction: The HydraFacial technique gently cleanses and removes dead skin cells and impurities, leaving you with a smoother complexion. Heard about the "Junkie" yet? One of our favourite parts of this facial is that you get to see all the junk that's been removed from your skin during the treatment. Affectionally known as the 'Junkie' in HydraFacial circles.
JLo Glow Boost: Here comes the secret sauce. Gorgeous ingredients combined together to revitalize and nourish your skin, revealing that JLo-worthy radiance.
Light Therapy: The cherry on top. Experience light therapy, specifically chosen for your needs to give your skin a hi-tech boost.
Hydration: We finish off with a serum packed with hyaluronic acid and peptides to lock in all the goodness and FURTHER boost your skin's softness, smoothness, and JLo Glow.
The HydraFacial isn't your average facial. It it's six treatments in one. The JLo Booster takes it all to the next level, giving you that show-stopping glow.
"My favourite part is just the results. What happens at the end, like walking out of here feeling like I don't even need to put makeup on. It's such a game changer."

Jennifer Lopez on JLo Beauty delivered by HydraFacial
HydraFacial is suitable for almost EVERYONE. Be sure to consult your practitioner and disclose any health concerns or issues that might affect your treatment.
Don't be fooled by the name; the HydraFacial is no ordinary facial. It's a multi-step skincare extravaganza that bridges the gap between medical beauty and regular facials. The JLo Booster elevates this treatment to Hollywood-worthy levels giving you an instantly radiant, red-carpet-ready complexion.
Ready to Glow? Book Your JLo HydraFacial Today.
Are you as excited as we are about the JLo HydraFacial launch? Experience the magic yourself at The Skin to Love Clinic in Hertfordshire, St Albans. Our Platinum HydraFacial is the ultimate HydraFacial experience including a skin booster. What are you waiting for? Message us to treat yourself to the glow-up of a lifetime.
Disclaimer: This blog is not to be used for diagnostic purposes. We are all unique which means that our results, recovery and suitability for any type of treatment will vary. Always seek the advice of a professional should you have any health or cosmetic concerns or to discuss treatments specifically for you.